G.T 129 ton
N.T. 103 ton
L.O.A. 37 m / 123.58 ft
L.O.D. 29 m / 96.66 ft
L.O.W. 25 m/ 83.50 ft
Beam: 7.50 m / 25.05 ft
Draft: 2.60 m / 8.86 ft
Rig: 2 masts gaff rigged ketch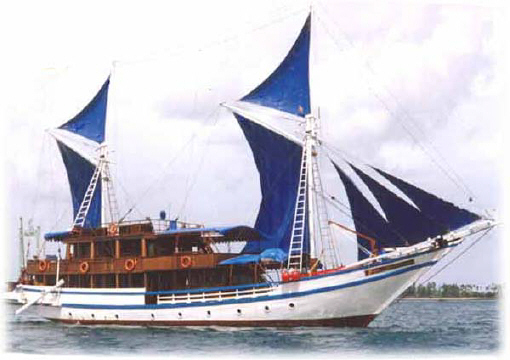 Sail: 7 total
Sail area: 370 m2
Decks: 4, lower-,main-, upper/navigation- and sun deck
Number of passenger cabins: 8, all air conditioning, 7 with en suite bathroom and hot & cold water
This Buginese type pinisi schooner is made of ironwood with traditional wood carving in the interiors. Building started in 1995, launched in 1997 and recently docked and extensive overhauled.
Number of crew cabins: 6
Saloon & dining room:4 air-conditioning units
Average speed:9 knots
Main engine:365 hp Caterpillar
Generators:2 Perkins 60 KVA and 1 Yanmar 7 KVA
Fuel tank:15 ton
Water tank:16 ton
Pumps:7 for salt-, dirty-, bilge-, fresh water and fuel
Batteries:3 X 200 AMP
Decks are spacious with awnings to enjoy the tropical scenery and dining on the sundeck under the stars.

Annex to the spacious lounge and dining room is a full-equipped guest galley with chillers and freezers for up to 1800-liter cold storage. Separated is a crew galley.

The ship has 8 guest cabins for two persons with air-conditioning of which 7 have en suite bathrooms with hot and cold water.

With little costs the last cabin can be added with an en suite bathroom.

For a private owner, it is easy with little costs to adjust the upper deck to spacious suite

Suite with a private deck behind it. Below deck are four spacious cabins for guests.


SOLD