Clovelly Class Type X Diving tender.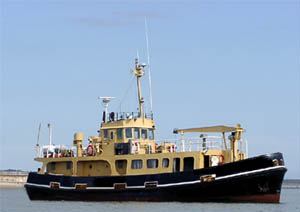 LOA 80' (24.1m)
LPP 75'
Beam 21' (6.4m)
Draft 10' (max 2m)
Displacement 112 Tons std
143 t fld
GRT (1985) 112.8; given as 133.62 in 5.88

This vessel is one of 64 fleet tenders commissioned by the British Royal Navy and built
by Gregson at Blyth using the Clovelly class design.

They were commissioned from 1963 through to 1982. Originally their configuration
enabled them to carry 110 passengers or 25 tons of cargo in two holds and on the
deck. They were built to Lloyds 100A1 classification for operation in the North Sea and
the English Channel, some of the busiest and difficult waters in the world.

She would suit conversion to an expedition vessel, a research vessel or stay as she is,
a beautiful little dive support ship.

She has an onboard decompression chamber and at the moment has nearly
completed a full refurbishment and modification as a dive support vessel for 12 divers.

There are three two berth cabins, one four berth cabin and a single berth cabin.

There are also three toilets, a shower and a deck shower.

There is a heated kit drying area.
There are also 2 compressors.

Nitrox and Tri-Mix blending are available as well as Air to 300 BAR.

Engines: Lister Blackstone ERS-4-MGR diesel, 330 bhp, 1 shaft,
Cruising 10.5 knots

Aft on the deck level is a Lounge/Classroom and galley.
Mid deck level are cabins and heads.
Fore deck level, Enclosed covered deck area with the decompression chamber.
Below decks mid ships is air storage, drying area and workshop forward of which is
accommodation.
The bridge is equipped with GPS, radar, radio
Foredeck carries a one ton crane.

She would be perfectly suited to a dive outfit offering PADI, IANTD, BSAC, SAA,
CMAS and would support a full range of specialty diving including but not limited to: Dry, Deep, Wreck, Drift,
Navigation, Search & Recovery, Nitrox, Oxygen Administration,
Peak performance buoyancy, Night diving and Boat diving.

This vessel is offered for sale at £110,000