Year built:1987
Year renovated:1997
Length:108.6 m
Width: 14 m
Draught: 6.6 m
Sail area: 31 586 sq. ft (2936sq.m)
One of the few
windjammers still in active service as a cadet training ship and was
totally renovated in 1997 to offer guests international standards of
comfort. Modern cabins, a comfortable restaurant, two attractive bars plus
superb cuisine and service: All guaranteed to make you feel completely at
ease. A wide choice of sports and activities, a varied and interesting
entertainment program and some fascinating excursions on land ensure you
never have a chance to get bored. No less important, the Swiss management
of I.C.H. (International Cruise and Hotel Management S.A., Rapperswil) is
your guarantee for impeccably smooth
organisation. And last but no means least, the members of our experienced
Ukrainian Crew looks forward to impressing you with their expert command of
sailing and navigation techniques from a bygone era.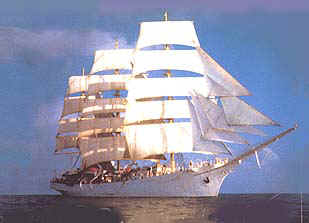 And this is what the SV Druzhba has to offer:

Swiss management and service on board

The adventure and excitement of real sailing, all in comfort

Ukrainian hospitality

The romance of life on a windjammer with almost 32 000 sq.ft of sails

A full program of water sports

Masts: fore, main and mizzen
Mast height: 49.5 m
Engine: 2 x 570 hp Sulzer single propeller
Type of craft: Trainee sailing ship
Where built: Gdansk shipyard, Poland
Tonnage: 2987 GRT
Air-conditioning: Throughout the ship and in all cabins
Cabins: 27 cabins (two- and four-bed)
Max. no. passengers: 70
Crew: Hotel management, 11
Officers and crew,41 Cadets, 30


Communications: SATCOM, satellite link-up for telephone and fax
Restaurant: Restaurant Odessa,seating for 70
Bars: Captain's Bar,seating for 50,
Sun Deck Bar (open-air)
Day rooms and reception:Library, reception, shop
Water sports: Windsurfing and snorkelling equipment,
zodiacs, water skis,
swimming platform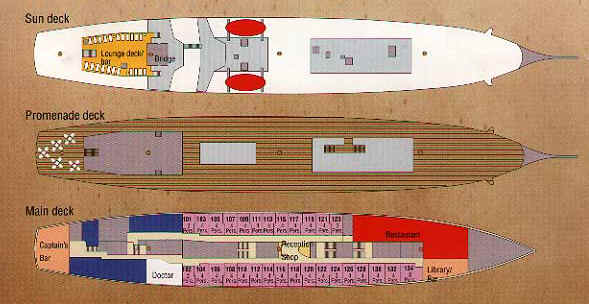 Lying Cyprus

Time charter now set at just over $3000 a day for 6 months +3+3